Any serious gamer needs one of the best gaming routers at the center of their network. After all, a regular router will have trouble keeping up when you're hours into your favorite
online games
and have to share the network with any other devices. And, the last thing you want to experience is an interruption or lag at the most crucial moments while playing.
In fact, having a robust, uninterrupted signal is just as vital as a quality gaming PC for experiencing titles, like co-op games, that require a connection. Just like the best gaming mouse or gaming keyboard, you need something dedicated to the task. And, a router meant for gaming is perfectly suited. It can speed up the process even if you're just grabbing the best PC games off your Steam or Epic Games account.
Not only do great gaming routers offer a strong, continuous signal, but they also provide a number of things that will help, like minimizing intermittent network issues and lags, as well as prioritizing network bandwidth to the devices that need it most (aka your gaming rig). You'll also find such features like MU-MIMO technology and Quality of Service (or QoS) to take your network to the next level when playing with or against players from around the world.
You need a gaming router as part of your setup if you play any games online. Traditional routers just won't do and having one of these will keep you in the middle of the action without interruptions. So, take a look at our top choices, where you'll find everything from ones packed with gamer-centric features to ones with cutting edge tech like Wi-Fi 6.
There may be a few things you might not like about the TP-Link Archer GX90. It's big, it's bulky, and it's expensive. However, those are easy to forgive when you realize that you're getting a big bang for your buck. This is a high-speed, reliable Wi-Fi 6 router that boasts a handful of features for hard-core gamers. That includes a dedicated 5GHz 'gaming band' that lets you hog most of your household bandwidth when you need it. Have younger gamers at home? It also provides good parental controls like content filters to block unsuitable material, with pre-set profiles for children of different ages. 
Read the full review: TP-Link Archer GX90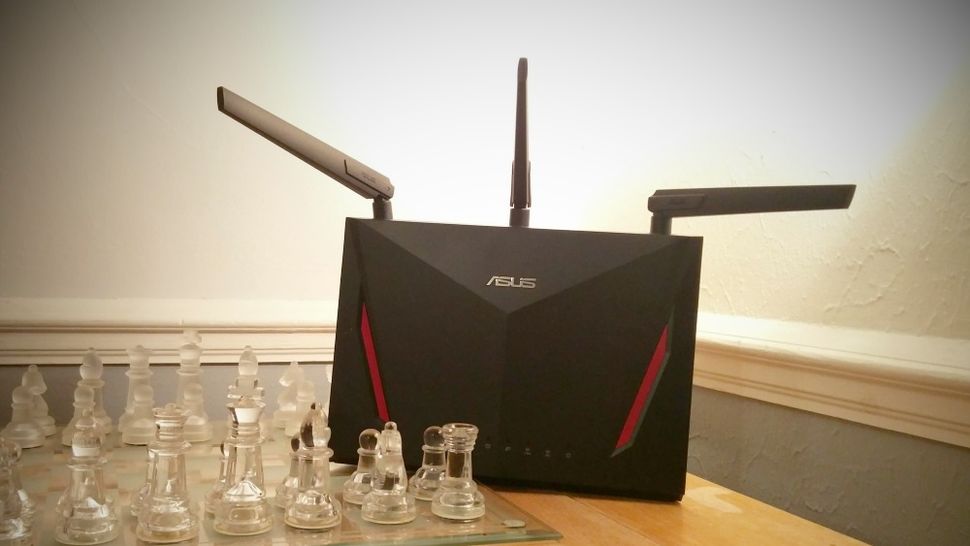 The Asus RT-AC5300 is one of the best gaming routers – it has a collection of advanced features, making online and network gaming as lag and frustration free as possible. This includes a straightforward yet powerful interface, as well as comprehensive QoS settings. The spider-like design is somewhat of an acquired taste, but the eight antennae serve a purpose since they can be used to direct the Wi-Fi signal throughout your home, providing this router with remarkable range.
Read the full review: Asus RT-AC86U
We know we've already mentioned the TP-Link Archer C5400 v2 earlier, but the company added an 'X' to the end of this model, signifying the extreme boost in performance. It's considerably more expensive, but that price tag is justifiable as it may be one of the highest-end and best gaming routers available. With eight ethernet ports around the back, it's perfect for hardwiring a fleet of gaming equipment. And, the MU-MIMO and Tri-band support means that wireless connections are also top of the line. You'll top the leaderboards irrespective of where you are in the house.
Read the full review: TP-Link Archer C5400X
If you're a hardcore gamer, it can be maddening when your roommates are watching Netflix or downloading their own games at the same time. You should take a look at something like the Netgear Nighthawk XR500. Not only will this elite gaming router deliver a ridiculously fast 2.2Gbps speed, but with MU-MIMO support – not to mention, unique gaming features like location-based connection filtering and QoS, you can do some gaming all night without hitting a paralyzing lag spike. Just be ready for the high sticker price and make sure you're ok with such a gamer aesthetic.
Read the full review: Netgear Nighthawk Pro Gaming XR500
The Asus RT-AC5300 is a fantastic high-end gaming router that is filled with a bunch of striking features. This includes an incredibly simple yet powerful interface, on top of comprehensive QoS settings. The spider-like design isn't for everyone, but the eight antennae are there for a reason, to help direct your Wi-Fi signal reach throughout your home, giving this router excellent range.
 Read the full review: Asus RT-AC5300 Tri-band Gigabit Router
This router might look like it's going to abduct a close friend or family member, but we promise the Zyxel Armor Z2 AC2600 isn't as alien in function as it is in aesthetics. Brimming with the latest MU-MIMO support, which boosts speed when multiple devices are connected to the same network, this gaming router prides itself on its performance capabilities. Since it can handle several devices, while prioritizing bandwidth depending on the needs of each connection, it's one of the best gaming routers you can purchase today.
Read the full review: Zyxel Armor Z2 AC2600
The Asus RT-AC88U is an expensive gaming router. However, it justifies its price with crazy 802.11 wireless performance. Armed with four antennae and NitroQAM tech, which pushes speeds even further, this gaming router enables wireless performance that can break the 1GB/sec limit. There's a catch – you'll need to grab a NitroQAM wireless adapter, like the Asus PCE AC88, to approach these mighty speeds; but with speeds like this, it's not hard to see why this is one of the best gaming routers available.
It may look like it came straight from Battlestar Galactica – the old Battlestar Galactica – but, the D-Link DIR 885L/R is a dependable mid-range gaming router with great range and speed. If you're looking for the best gaming router, you may want to give this one a try. It comes with a good range of ports, as well as a nicely designed UI. It also touts DD-WRT open-source firmware, making this router as versatile as it is powerful.